What are Export Control Activities?
What are Export Control Activities?
The U.S. Government regulates exports of sensitive equipment, software, and technology to protect and promote our national security interests and foreign policy objectives. The University of Arkansas in Fayetteville has instituted several practices to meet these rules, regulations, and remain in compliance with federal objectives. Faculty, staff, and students are required to follow these institutional policies when working in or traveling to a foreign country, as well as when they use or carry university equipment, intellectual property, or any other property regulated under the applicable controls in a foreign country.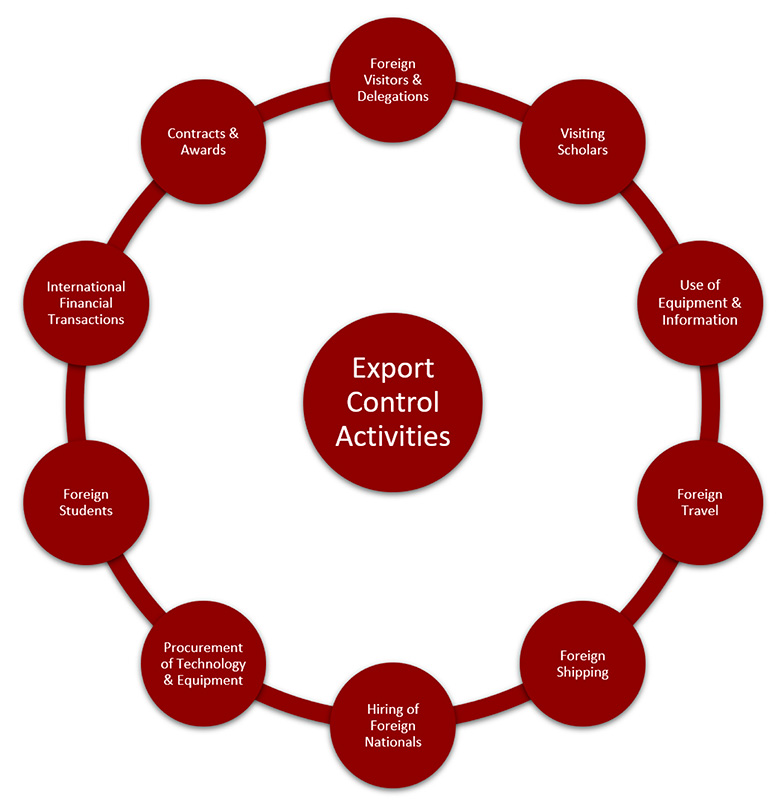 Export Control Activities
Foreign Visitors and Delegations
Use of Equipment and Information
Foreign Travel
Foreign Shipping
Hiring of Foreign Nationals
Procurement of Technology and Equipment
Foreign Students
Visiting Scholars
Contracts and Awards
International Financial Transactions
The first step after determining whether government authorization is potentially needed, will be to identify jurisdiction of the federal agency and regulation. It is possible that in some cases, more than one agency or regulation applies. Please, contact the Export Control Officer for assistance.
If you are planning to engage in any of these activities, please refer to the information on this website and contact the Export Compliance Officer at 479-575-6725 or via email to assist as you navigate through these regulations prior to the activity.
Contact Export Control Staff
Shatara Porchia-White
Director, Research Integrity and Compliance
106 MLKG
Melvin Torres
Export Control Officer
108 MLKG
Benjamin Purvis
Chief Administration Officer
102 MLKG